Dr. Jamal Mubarak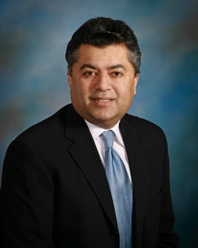 Dr. Jamal Mubarak was born in Karachi, Pakistan to a physician mother and an engineer father. He takes after both of them. After completing medical school at
Aga Khan University Medical College
and an internship in Internal Medicine and Surgery at Aga Khan University Hospital in Pakistan, Dr. Mubarak chose to pursue a Master's degree in Computer Science and Engineering at the
University of Michigan
, Ann Arbor. He then continued on with his medical training and completed his residency and Pulmonary Fellowship at
East Tennessee State University
. Following that Dr. Mubarak completed his Critical Care Fellowship at
The University of Texas Medical Branch
in Galveston, Texas. Dr. Mubarak is
board certified
in Internal Medicine, Pulmonary Disease, Critical Care Medicine and Sleep Medicine.


Dr. Mubarak currently has an office practice and admits patients to
Presbyterian Hospital of Denton
,
Denton Regional Medical Center
and Atrium Medical Center. He serves as a pulmonologist to many physicians and surgeons, sleep medicine specialist for those with apnea, as well as an intensivist for patients in critical situations. He chose pulmonary medicine as his specialty due to his fascination with its physiology as well as the great personal rewards that come when he makes a significant difference in the lives of his patients. He has two children.

Dr. Abdul Memon
Dr. Abdul M. Memon was born in India and raised in a business-oriented family; however, his mother motivated him towards a career in health care. Dr. Abdul M. Memon received his medical degree from Liaquat University of Medical & Health Sciences, Pakistan. He completed his residency and fellowship at the University of Medicine and Dentistry, New Jersey. After completing his training, he worked in several states across the country which added to his depth of knowledge and flair to treat a variety of pulmonary disorders.

Dr. Abdul M. Memon has also held several leadership positions, such as Chairman of Department of Medicine, Chairman of Credentials Committee and Medical Director. He received the "Outstanding Faculty Award" and was awarded Fellowship from College of Chest Physicians.

In his free time he enjoys the outdoors and spending time with his wife and children.

Dr. Saima Memon
Dr. Saima B. Memon is Dr. Abdul M. Memon's daughter. She took an interest in the field of medicine at a very young age, occasionally making rounds with her father. Dr. Saima B. Memon completed her medical degree at Aga Khan University, Pakistan and her residency in Internal Medicine at Saint Louis University, Missouri. Subsequently, she completed her Pulmonary and Critical Care Medicine fellowship at the University of Louisville, Kentucky. During her fellowship, she was awarded several honors, including being appointed Chief Fellow and named "The Outstanding Research Fellow" in 2010.

Dr. Saima B. Memon is interested in a variety of pulmonary diseases, especially, the management of asthma and providing critical care for patients in the intensive care unit (ICU).

In her spare time she enjoys cooking and she loves looking up new recipes and exotic dishes.